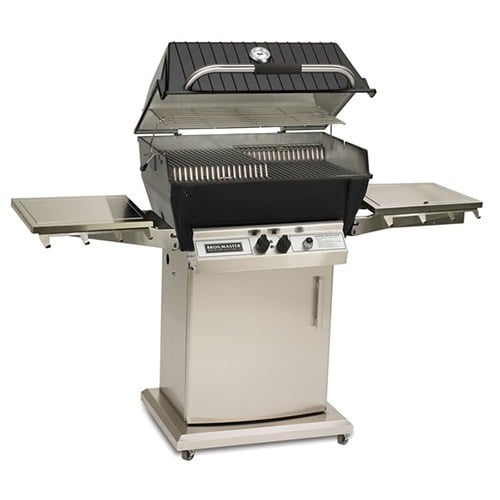 The P3X grill arrives with every stainless steel option already checked – two-piece three-level grids, griddle, control panel, smoker shutter, folding retract-a-rack, and adjustable lid stop. The Flare Buster Ceramic Flavor Enhancers keep unwanted flames under control while delivering unmatched heat distribution. The P3X grills each feature the legendary Bowtie Burner for exceptional heat distribution at any temperature setting. The P3X Bowtie Burner generates 40,000 Btu of corner-to-corner, meat-searing heat and maintains a perfectly uniform output at any temperature setting.
Broilmaster's exclusive Smoker Shutter system acts like a set of stainless steel blinds positioned between the burner and your food. Open the shutters for conventional grilling and searing over high heat.
The P3X features 695 square inches of total cooking area – cooking grids and warming rack. Choose the size and features to suit your cooking style. Add the optional Smoker Shutter to any P3X grill to double its versatility. Choose LP or Natural Gas. Conversion Kits optional.
695 Sq. In. of Total Cooking Area
Tall Lid for Smoking Turkey or Roast
Heavy-Duty Cast Aluminum Construction
40,000 Btu Input
Stainless Steel Bowtie Burner
2-Piece Stainless Steel Rod Cooking Grids (3-Levels)
Stainless Steel Control Panel
Stainless Steel Folding Retract-A-Rack
Flare Buster Ceramic Flavor Enhancers (P3XF and P3XFN) or Charmaster Briquets (P3X and P3XN)
Fits all Broilmaster Mountings
Contact us for current specials and sale pricing. Please provide your contact information and we will be sure you are informed of all specials and sales.