Your swimming pool installation can offer endless summer enjoyment to family and friends. The key to an exceptional pool experience is making safety a top priority. The best way to bring safety and function to your swimming pool installation is with a top-quality safety cover. Not only can a GLI™ Safety Cover protect your pool and loved ones, but it can also help to maintain crystal-clear water that is free of contaminants.
GLI™ ProMesh® Safety Cover
GLI™ ProMesh® uses state-of-the-art cover material that provides solid coverage benefits without any added weight. The ProMesh® safety cover blocks 98%, preventing algae growth that can be a problem for pools in sunny locations.
Construction of mesh with a unique weave of polypropylene material that blocks out algae-producing UV rays and resulting in making springtime pool opening a snap!
A tight mesh material that allows water to drain from the surface, easily filtering out dirt, leaves and debris!
A fabric, which is nearly 50% lighter than solid covers for easier installation, removal and storage.
An extra-strength material that provides greater tear resistance and tougher winter wear-ability which is ideal for both commercial and residential use.
Use of standard, commercial-grade springs on Custom Covers. Fastest turnaround times in the industry!*
Standard or above safety cover performance as outlined in ASTM F 1346-91.
A standard 15-year limited warranty.
Coverage under U.S. Patent No. 6,886,187 – 98% Shad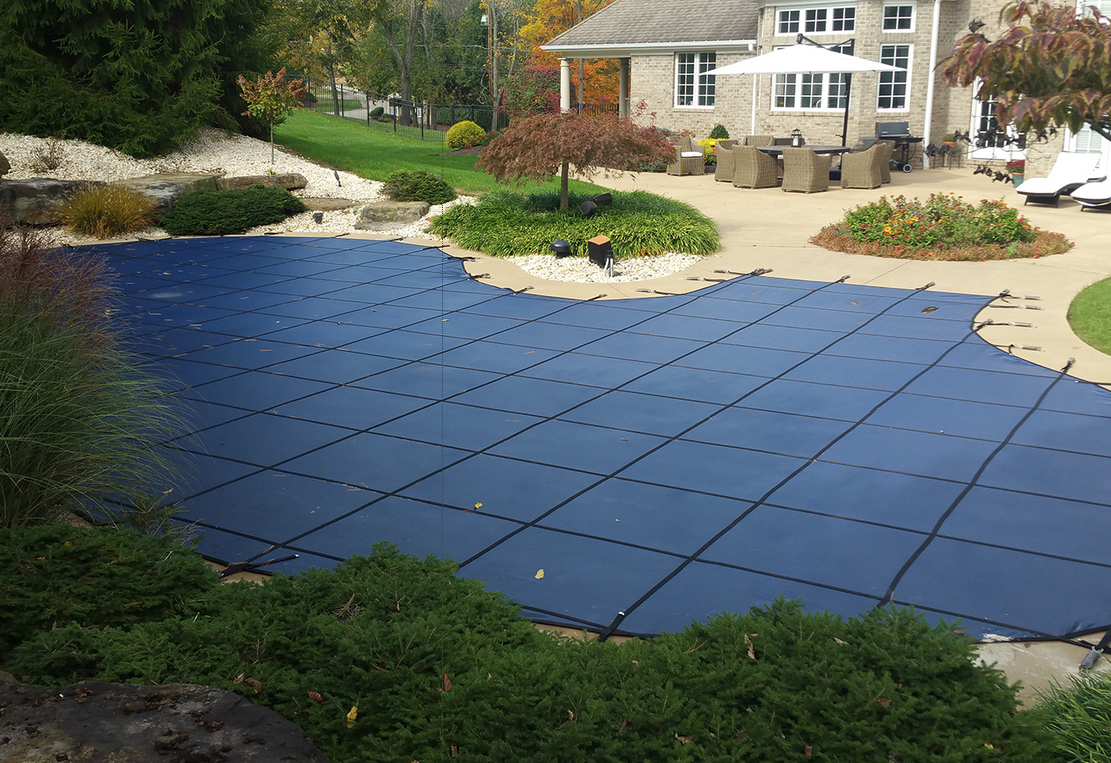 ProMesh® Safety Cover Colors: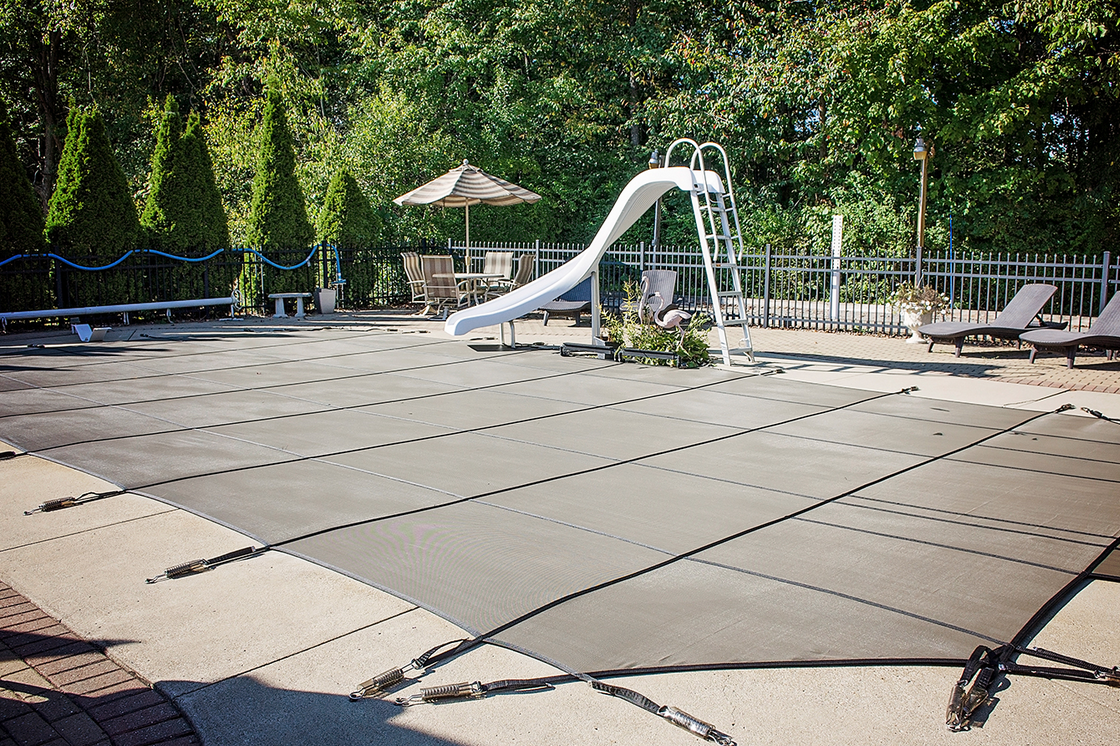 Secur-A-Pool® Mesh Safety Cover Colors:

GLI™ Secur-A-Pool® Mesh Safety Cover
Our Secur-A-Pool® Safety Cover is renowned in the industry for its strength, durability and ease of installation. In addition, it is a maintenance-free cover that provides pool owner complete peace of mind during the off-season that their pool investment is not only protected against the elements, but also, will not pose a danger to unexpected visitors.
The new, improve and increased weave count contained within our polypropylene mesh fabric ensures added strength, sustainability and shading protection
Contains our patented mesh material blend, which eliminates any standing water hazards by allowing water and melting snow to drain through and minimizing damage risk, as well
Automatically screens out dirt and debris for quick, easy and fuss-free spring time opening
Created with the finest materials in the industry for strong, safety-first protective results
Secures pool from children, pets and stray animals
Tamper-proof design prevents entry without an installation rod, while still allowing for installation and removal in mere minutes
Improves the look of your pool in the off-season. Fastest turnaround times in the industry!*
Meets or exceeds all safety cover performance standards as set forth in ASTM F 1346-91
Standard 12-Year Limited Warranty
GLI™ Hyperlite™ Solid Safety Cover
Another staple in our stellar collection, this arm of our solid cover options are not only secure, but they are also 30% lighter than standard solid covers and each comes standard with our distinctive Commercial Grade Springs on Custom Covers.
Contains improved strength and puncture resistance – the ultimate in durability, which is able to withstand puncturing from falling tree branches, deer hooves & the claws (etc.) from other animals
Provides 100% Sunlight Blockage, which means there will be NO spring time algae growth in your pool
Made with PVC-coated polyester fabric, which is why it's 30% lighter than standard solid covers
Offers our patented "Kleen-Screen" drain, circulating the water in a direction that efficiently filters out dirt, leaves and debris from the surface
Contains our new, improved Sure-flo full length drain, a standout feature which commands better water flow through the drain while still allowing the ultimate sun blockage; pumps are also available
Commercial Grade Springs are standard on all Custom Covers – this is $125 value!
Fastest turnaround times in the industry!*
Meets or exceeds all industry safety cover performance standards as set forth in ASTM F 1346-91.
Contains a standard 15-Year Limited Warranty.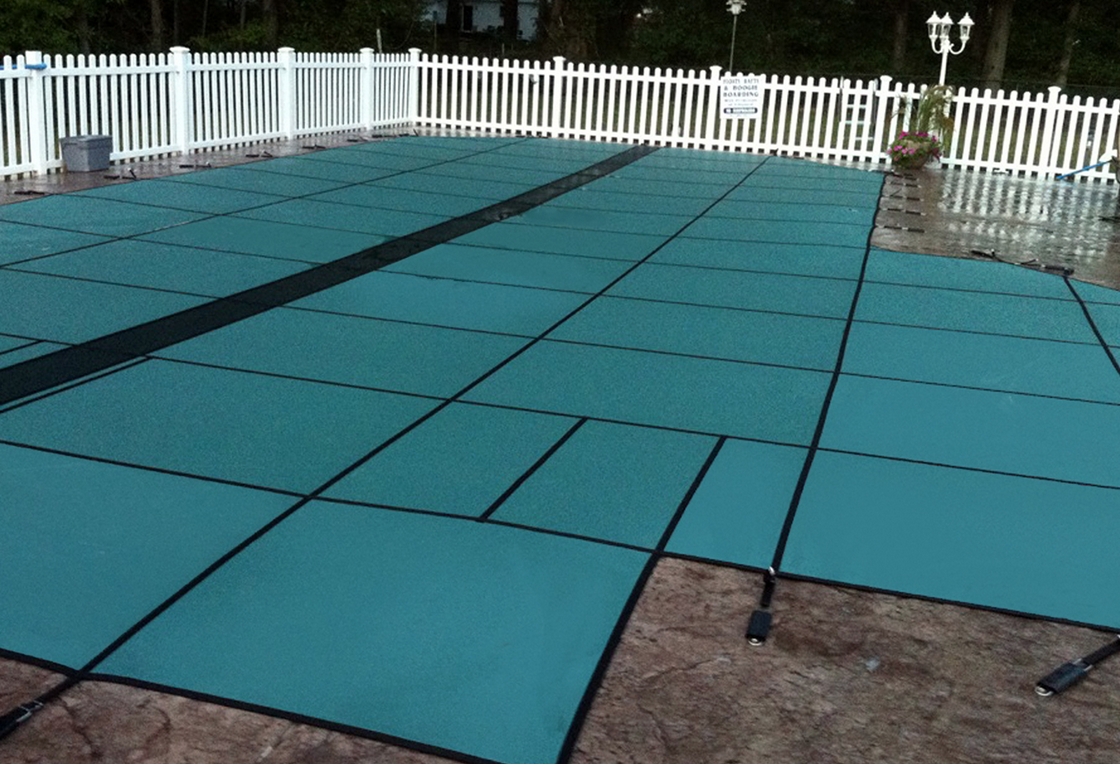 Hyperlite™ Solid Safety Cover Colors: