No matter your fitness level, if you're looking for a total body-strengthening and cardiovascular workout, there's no need to look any further than swimming.
Using swimming as your primary source of exercise can provide the following benefits.
7 Amazing Health Benefits Of Swimming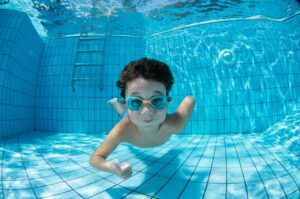 Body Support
Water supports up to 90 per cent of your body's weight. If you suffer from aches and pains or you have a long-term injury, swimming is a safe and effective form of exercise, as it lifts the strain and pressure from your body.
This can provide you with a feeling of freedom and weightlessness, making it much easier and more comfortable to move around, stretch or exercise.
No Sweat!
If sweating is a turnoff, then swimming can be a turn-on. No matter how hard you work in the water, you won't sweat because the water surrounding you is constantly cooling you down. Even if you were to break a sweat, you're already in the cool and refreshing water, making it very unlikely that it will be a bother.
Higher Energy Levels
More often than not, simply being inactive is responsible for or contributes to a lack of energy. The good news is that just 30 minutes of swimming three times per week can increase your energy levels. The activity increases your body's metabolic rate.
Lower Disease Risk
In addition to providing great cardiovascular exercise, swimming only 30 minutes per week can help lower the risk of stroke, heart disease and Type 2 diabetes.
Relief for Achy Joints and Muscles
Swimming provides relief for aching or tense muscles and joints, especially if the pool you swim in is heated. If you have the luxury of having a pool in your backyard, you might want to check into Hayward® pool heaters. They are the best on the market!
Mental Benefits
Swimming is known to alleviate stress in general, but it's also effective for lessening the symptoms of anxiety and depression. The act of swimming releases endorphins that provide calmness and invigoration of the mind simultaneously. In addition, swimming is a great way to regulate your sleep patterns.
Quick Calorie-Burning
You can burn off an ice cream binge in no time with swimming! A gentle swim can burn more than 200 calories in just 30 minutes, which is double that of walking, running, or cycling.
Your Safety
If you don't have access to a pool, whether at home or at a local gym facility, be cautious when turning to natural bodies of water. If you do decide to swim in a lake or the ocean, be ever aware of currents, water temperature and regional risks that fluctuate throughout the year. Never swim alone under these conditions.
If you have access to a pool, however, swimming can be either a solo or group adventure. Many fitness centers offer aquatic exercise classes for all levels. There are often classes that are designed for specific health conditions.
If you're still not sure that swimming is for you, speak with your physician before engaging in a water-based workout or including swimming in your regular lifestyle. This can help to ensure your best health.
Gary's Pool And Leisure
If you're ready to experience the health benefits of swimming, the experts at Gary's Pool and Leisure, located at three New York locations, would love to assist you as you browse our wide selection of Carvin® and Vogue® above-ground pools and pool accessories.
Contact us today to get your backyard ready for your new-found love of swimming!