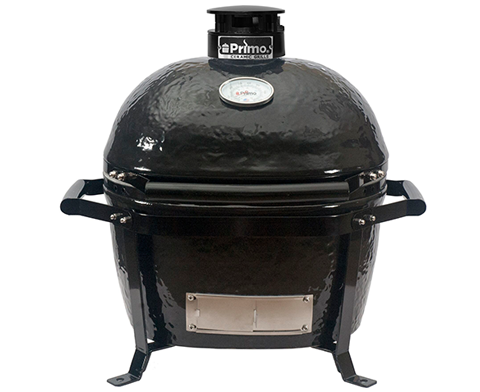 All the benefits of the patented oval shape, in a smaller version. Our Junior Charcoal Primo offer superior cooking efficiency and accessibility. Grill, bake, roast, or smoke any food.
Select from multiple installation options to find the best for you! The following are available as an additional purchase: a primo cart, cradle, table or All-In-One package. The All-In-One package comes with the grill head, an ergonomic handle, cradle stand, side tables, ash tool, and grate lifter. All options are the perfect way to complete your grill purchase.
The Junior Charcoal Primo also has a Primo GO two-piece cradle and base available for additional purchase. This cradle and base makes the Junior Charcoal Primo the largest portable ceramic grill available.
Cooking Area: 210 sq in. | 1,355cm2
Optional Rack System: 150 sq. in. | 968cm2
Temperature Range: 151 – 850 F+ | 66C-
Weight: 100 pounds
Contact us for current specials and sale pricing. Please provide your contact information and we will be sure you are informed of all specials and sales.